I guest posted this No Bake Cheesecake recipe last week on Kara's blog "Mine for the Making".


It was so much fun to visit her blog for the day, (she is so cute) but I wanted to share this recipe with all of you as well just in case you missed it last week!
Pin It
A little background, this recipe came from my Great Grandmother on my mother's side. It is delicious and super easy, definitely a winner in my book. Plus, it looks pretty, and who doesn't like that?
First you must have a crust. You can buy a graham cracker crust at the grocery store, they are actually really good; but I like to make my own, I think they taste better.
Ingredients: for a 9 inch crust
-graham cracker crumbs
-1/4 cup sugar
-1/4 cup melted butter
Place 1 package graham crackers in a gallon ziploc bag and use a rolling pin to pound and roll the crackers into very fine crumbs. Did I mention this recipe is extremely useful for releasing pent up stress and anxiety????
Mix graham cracker crumbs, sugar and butter in bowl. If you don't have a pastry cutter (like the one shown below) just use a fork, it will work just as well! Make sure you get it all evenly mixed together.
Then I use a spoon to press the crumb mixture in the bottom and sides of my pie pan. Then stick it in the fridge. It has to chill for 1 hour before you can fill it.
So while it is chilling in the fridge, go get a coke, put your feet up, and when your hour is over, this is how you make the delicious filling.
Ingredients: Cheesecake
-1 (8oz) pkg cream cheese
-1 (14oz) can sweetened condensed milk
-1/3 cup lemon juice
-1 tsp vanilla
Beat cream cheese in a bowl until it is light and fluffy.

Then add the sweetened condensed milk and blend thoroughly.
Add lemon juice and vanilla, blend again and pour into crust! Stick it back into the fridge and let it chill for 3 hours before you serve it. This gives it a chance to set up.
Voila!!! Cheesecake with no bake! Love it! Don't forget to spoon some of your favorite fruit topping over the cheesecake before you serve it. I always just use the canned pie filling that you can find in the baking isle at the grocery store. Cherry is my favorite!
Well, I hope that you guys have enjoyed my visit here at Mine for the Making, I know I have! Again a huge THANKS to Kara for letting me hop on over for the day! Enjoy your cheesecake and have a slice for me!
Linking up to the following parties: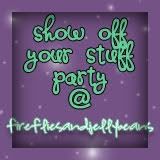 Hey I have an AWESOME post for you today! Who doesn't love chocolate fondue, and who doesn't love s'mores? Ummm…NO ONE! Those are two of my faves and together they ROCK!
So here is what you do, (p.s. you don't even need a fondue pot,) so no excuses, have yourself a fondue night!
Ingredients:
4 oz. of milk chocolate chips
1 oz. water
1 TB marshmallow crème
crushed (not too fine) graham crackers
(these amounts make enough for 2 people, so adjust accordingly)
Put the water into a pot on the stove, turn to a medium low setting. Add the chocolate chips and continuously stir until it is all melted together. Don't turn your stove on too hot, no bubbling should be happening or you will BURN the goodness!
After it is all melted together, add the marshmallow crème, stir 'til all mixed in then add the graham cracker crumbs.
Voila!
So easy, and delicious!  When I am done on the stove I like to put the chocolate into a small crock pot for serving purposes.
Now all you need is some yummy dippers!!! S'more chocolate fondue!! It doesn't get any better than that folks!
Fondue dipper ideas:
brownie bites
cheesecake bites
strawberries
pineapple chunks
bananas
rice krispie treats
pound cake
marshmallows
For this specific fondue party I wanted to do something special as the party was for my friend Melissa's birthday! My husband and I LOVE the Melting Pot, if you haven't been DO IT!! So worth it!
At the Melting Pot their marshmallows are always covered in yummy things like coconut, graham cracker crumbs, or oreo cookie crumbs. So….I googled it and learned how to do it! Again, SO EASY, but looks AWESOME in the presentation department!
All you have to do is roll the marshmallow in water and then roll in the crumbs of your choice, I did graham crackers and oreo. DELICIOUS!
When you cut up dippers for fondue, you always just want to make sure everything is bite sized. Cut the strawberries, and bananas up, then brush them with lemon juice to keep them from browning. As a side bonus it also adds a little extra yumminess to the bananas that I rather enjoy.
I also baked a pan of brownies, sprinkled powder sugar over the top. Then when the brownies cooled, I cut them up into small squares. (tip: use a plastic knife when cutting brownies, it won't stick to the brownies as much)
Here is a pic of ALL the dippers, and the chocolate. Don't you just wanna eat this picture???
Half eaten goodness!
These are some of my dearest friends, aren't they fun! And of course my hubbie. (he is the cute one on the far left, hehehe)
Happy Birthday Melissa!
So what do you think? Is there a fondue night in your near future? I promise you won't regret it! I would love to hear about it if you have one!
Happy fondueing!