I LOVE Banners!!! Don't you? I love banners for every occasion, birthdays,  baby showers, parties, and holidays!
I made this Easter Banner using my Cricut. I just cut and layered the coordinating papers and then glued them together and glued the letters to the top layer.
And of course I had to INK everything! I love to ink the edges of things, I am a compulsive paper distresser! All my friends will agree that this is true. It is one of my dirty little secrets!!
Then I punched holes in the right and left sides of each piece, and then tied then together with not only ribbons but fun fibers. This, I believe is the secret to a really cute banner!
Now that I have a cute Easter Banner I need to figure out what to do with the mantle. Right now all that is up there is a lonely Spring Wreath. Any ideas on what I could put up there to make it cute and springy?
Linking up to the following parties: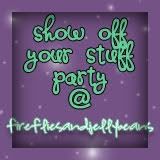 7 Responses to "Easter Banner"